WHAT WE DO
Our club embodies Rotary's motto, service above self, in everything we do as we strive to make a difference in our local community and others around the world
We have a very rich and accomplished history to be proud of. Locally, through our efforts with the Suncoast Food and Wine Fest and Books for Kids, and globally, through our efforts with Shelter Box USA and the many Global Clean Water & Sanitation Projects we support. We invite you to be a part of it.

WHO WE ARE
The Rotary Club of Lakewood Ranch is a group of professionals and retired men and women who meet for lunch each week for fellowship and to discuss current local and international topics as well as various issues relevant to the practice and promotion of Rotary ideals in our business and personal lives.
As Rotarians, we believe in the 4-Way Test. We are compassionate, generous, accomplished and we believe in "Service Above Self." We are a global organization bringing together 1.4 million people from around the world to support humanitarian efforts. Rotary accomplishes this through the actions of its members and their connections to solve problems through district and global projects in seven areas of focus.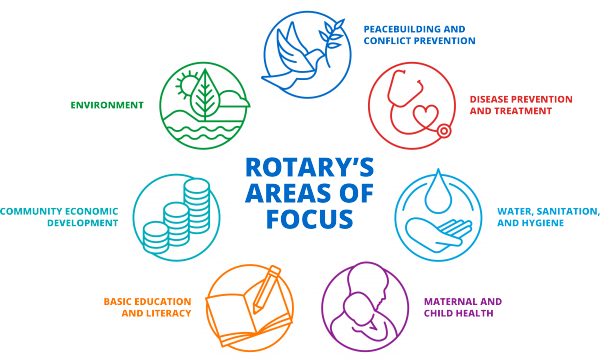 The Rotary clubs in our area are collecting and distributing supplies, coordinating volunteers, and providing any necessary support for relief and recovery efforts. Please visit rotaryfl.org for information and to donate to relief efforts.
Contact the Rotary Club of Lakewood Ranch 941-870-0002 rotarylwr@gmail.com